A new regional railway, Baku-Akhalkalaki-Kars, will link Asia with Europe to become "a modern version of the new Silk Road," Georgian President Mikhail Saakashvili said after negotiating with visiting Turkish and Azerbaijani leaders in Tbilisi on February 7.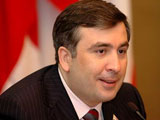 Speaking at a joint news conference with the Turkish and Azerbaijani leaders, Saakashvili also said that Tbilisi does not want any country of the region to be "isolated" from regional cooperation.
Turkish Prime Minister Recep Tayyip Erdogan and Azerbaijani President Ilham Aliyev signed the Tbilisi declaration on common vision for regional cooperation between Azerbaijan, Georgia and Turkey.
The transport ministers from Azerbaijan and Turkey and the Georgian economy minister signed a separate agreement to launch construction of the regional railway this year.
An additional agreement was signed between Azerbaijan and Georgia for the allocation of USD 200 million to the Georgian side for construction and rehabilitation of its section of Baku-Akhalkalaki-Kars railway. Georgia will have to repay the loan with 1% annual interest within 25 years. Georgia plans to use the revenues from the Baku-Akhalkalaki-Kars railway to cover the loan.
"This is a project that will lead to a geopolitical revolution in our region because this will be a new line that will connect not only our three countries, but also interlink the Asian and European regions with each other," Saakashvili said at the news conference.
He said that the project, which is worth of "several hundreds of millions" of U.S. dollars, will bring "several hundreds of billions" in revenues.
"In the long-term perspective, this project is a serious guarantor for success," he added.
"If until now Georgia was blocked due to the closure of the Russian railway [there is no direct railway link with Russia as the Abkhaz section is closed down], by 2010 the Georgian railway will turn into a part the European railway system," Saakashvili said.
Armenia is against the Baku-Akhalkalaki-Kars railway, claiming that the project will further isolate the landlocked country. As an alternative to Baku-Akhalkalaki-Kars, Yerevan is pushing for reopening the already existing Kars-Gyumri-Tbilisi railway. The railway between the Turkish town of Kars and Armenia's Gyumri is currently not operational because of trade blockades imposed on Armenia by Turkey and Azerbaijan.
In his remarks at the news conference President Saakashvili underlined that he does not want "any country to be left out" of the regional cooperation that is currently taking place.
"We want to have equal, transparent and friendly relations with each of our neighboring countries. It is very important for us to prevent the isolation of any country of our region… Of course we want equal and new neighborly relations with Armenia," Saakashvili said.
He said that the South Caucasian countries have no other alternative than to establish "friendly relations among each other."
"I am sure that we have a clear future and today we will sign on this future. We will do our best to launch this grand construction [of regional railway] this year and finish it in the shortest period of time," Saakashvili said. Civil Georgia