Azerbaijani, Georgian and Turkish leaders inaugurated a new terminal of the Tbilisi International Airport, which was constructed by the Turkish consortium TAV-Urban, on February 7.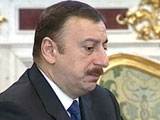 "This is one of the best airports in Europe. Two years ago I promised to have it and we have done it. This airport is much better than the airport in Brussels, or the airport in Munich," President Saakashvili said while speaking at the inaugural ceremony late on February 7.
The plane of Azerbaijani President Ilham Aliyev, who returned to Baku on February 7, became the first to take off from the new airport, officials said.
Tepe-Akfen-Vie (TAV), which teamed up with the Turkish construction firm Urban, signed a deal with the Georgian authorities in September 2005. According to the deal, the Tbilisi Airport was transferred to TAV with 15-year management rights. Construction of the new terminal began in January 2006.
The new terminal has a total area of 24.000 square meters and three passenger boarding bridges. Civil Georgia