"Today, it is possible to widen roads in Baku. Unfortunately, this opportunity is not seized now," said Deputy Minister of Transport Musa Panahov.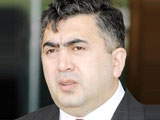 He insists it will not be technically possible to enlarge roads later amid recent acceleration of construction.
"Plans for enlargement of some streets and avenues are under consideration. However, it is a problem in the center of Baku because of historical buildings. Entry to the downtown of the city should be paid here as other countries," he told the APA.