Dr. Roald Sagdeev, Distinguished Professor of Physics at the University of Maryland and Director of SilkSat, a telecommunications project utilizing small satellites, Director Emeritus of the Space Research Institute, the Moscow-based center of the Russian space exploration program, gave a seminar on modern status of satellite technologies and prospects at the Communications and Information technologies Ministry.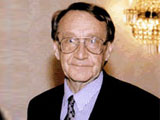 Ministry press service told the APA that Dr. Roald Sagdeev spoke on product and launch of satellites, use of modern telecommunications systems and experience of foreign countries.
The event was also attended by representatives from the ministry, National Academy of Science, National Avation Academy, Higher Diplomatic Academy, National Airspace Agency and scientists and experts.