Minister for Special Assignments for Electronic Government Affairs of Latvia Ina Gudele's visit date to Azerbaijan has been changed.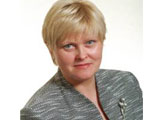 Latvian Ambassador to Azerbaijan Mikahil Popkovs told the APA that the visit was delayed by the request of Azerbaijani side, because Economic Development Minister Heydar Babayev who will also participate in the meetings with Ina Gugele will be on visit to another country.
Therefore Latvian Minister will visit Azerbaijan in March.