The Heydar Aliyev Oil Refinery completed crude oil processing on December 14, ahead of the schedule.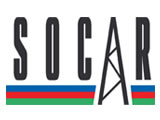 The State Oil Company of Azerbaijan (SOCAR) told the APA that the refining depth of oil improved 1.8% from 2005 to 61.4% through high-tech equipment installed.
The quality and quantity of oil products have improved.
Goods worth AZN 748.1m were produced which is a 5% up over the forecast. The goods covered domestic demand and 37.9% of the production was exported. Engine oil made 41.4% of the export.
In general, oil output grew by 67.1% year-over-year.