The Barmek-Azerbaijan Electricity Distribution LLC has officially stopped its activity in Azerbaijan from today.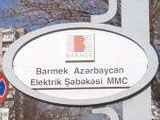 "Therefore, the company will no longer respond to the inquiry sent by the Inspection Commission at the Economic Development Ministry," Barmek President Huseyn Arabul stated.
According to APA, he said the company will freeze its activity completely from July 3, 2006. However, the company will continue to supply the population with electricity and collecting electricity bill and implement other duties until the hand over process with the government is over.
The Barmek President said the company will pay salaries of employees during this period. Arabul noted that he will give up solving the problem in legal framework if the Azerbaijani government calls him to talks and lifts the sanctions on the company.
"I don want the Barmek to be a problem between Azerbaijan and Turkey. But I'll not go anywhere without getting my right," he said.