June 29-30 2006 the Bond Congress of CIS and Baltic will be arranged in Riga (Latvia) by Cbonds, Russian Information Agency.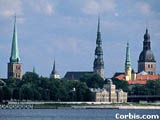 As APA reports, the target audience of this event is banks, investment companies, issuers and institutional investors as well as capital market regulators. The congress will be attended by the participants from Russia, Kazakhstan, Ukraine, Azerbaijan, Moldova, Uzbekistan, Georgia, Lithuania, Belarus, Kyrgyzstan as well as UK.
Baku Stock Exchange (BSE) in partnership with Cbonds is the organizer of the Azerbaijani section on bonds market in the abovementioned event.
The country will be represented by a large delegation headed by Mr. Gunduz Mammadov, the Chairman of State Committee for Securities under the auspices of the President of the Republic of Azerbaijan. Reports will be delivered by Mr. Anar Akhundov, the President of the BSE, Mr. Mansur Mammadov, the Head of the Trade Department of the BSE, and Mr. Agshin Amirov, the Risk Manager of Bank Respublika.
The principal purpose of the BSE in organization of the Azerbaijani section is to inform the participants of the Congress about the realities of the national securities market and attract foreign investors as well as establish bilateral contacts with partners and colleagues.
As a result of the Congress held last year in Alma-Ata where the BSE also was the organizer of the Azerbaijani section, a new investor category – nonresidents appeared on the market for the first time in the history of the national stock market.