June 29 US Cisco Systems Company President, John Chambers will pay a one-day visit to Azerbaijan.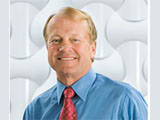 As APA reports, Chambers is expected to meet with president Ilham Aliyev, communications and information technologies minister Ali Abbasov, Economic Development Minister Heydar Babayev as well as Azerbaijani big companies.
Mr. Chambers will speak of Cisco Systems' transformation to world economy, and influence on various human activities–business, finance, communications, transport, healthcare and education.
His official visit will activate Cisco Systems Company in Azerbaijan.
Cisco Systems Company is world's leading company in production of network technologies and internet equipment.
Mr. Chambers has been President and executive director of the company since 1995. In his term finance indicators of the company have risen by times. As of last year turnover of the company is US$24.8bn. Cisco market cost is $129bn.
For this indicator, the company is in 26th place among 500 biggest companies. It only follows Microsoft among Information Technologies companies.