Iran will halt its massive gasoline imports from Sept. 23 and impose fuel rationing, the oil minister said on Friday - a political gamble in a country where subsidised fuel is viewed as a national right.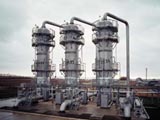 According to Reuters news agency, parliamentarians in the world's fourth biggest oil producer approved a budget for the year to March 2007 that cut the amount to be spent on gasoline imports to $2.5 billion from $4 billion.
This meant President Mahmoud Ahmadinejad's populist government, which draws its support from the poor, was faced with an unappetising choice of hiking petrol prices or rationing, both potential sources of social discontent.
Oil Minister Kazem Vaziri-Hamaneh told state television the government's final ruling would come next week.
"Because there is no budget for importing gasoline in the second half of the year, naturally imports will be stopped and gasoline will be supplied by rationing," he said.
The second half of the Iranian year begins Sept. 23.