Azerbaijan-Turkey Business Forum took place in Baku today.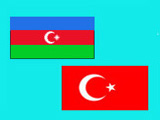 The aim of the forum organized by Entrepreneurship Confederation of Azerbaijan (ECA) was to expand and develop business relations between Azerbaijani and Turkish businessmen and to attract foreign investment to the country.
ECA President Alakbar Mammadov said at the forum that volume of Turkish investment in Azerbaijani economy is $4.5bn and $2.2bn of this investment is in the oil sector.
"Now Azerbaijan has 400 companies with Turkish capital and 115 of which have already been registered. $440mln has been invested in trade sector and this means 16,000 jobs."
He also added that cooperation agreement has already been concluded between a Turkish company and Sumgait Diagnosis Center in the first day of business forum.
The Business Forum was attended by besides local entrepreneurs, 15 Turkish companies dealing with production and sale of furniture, furniture fittings, office accessories, decorative light equipment, detergents and clothing.
Representatives of Turkish companies such as Al-Tek Dekorasion Tasarim, Aktif Aydinlatma, Tasarim Yapy, Efe Mobilya, Guno Pazarlama, Tur. San, Er-Mob Mobiliya, Detay Tekstil ve Otel San, Pazarlama, Alkay iplik tekstil, Uyun Yatak San and others attended the forum.
Within the forum bilateral meetings of the entrepreneurs will be held and Turkish entrepreneurs will visit local companies, APA reports.