"Project Agreement on Kazakhstan's joining to Baku-Ceyhan Pipeline is ready and it is under the consideration of the President of Azerbaijan," Natig Aliyev, Industry and Energetics Minister of Azerbaijan, has told reporters about.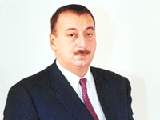 Mr. Aliyev has said the Agreement is expected to be signed during the visit of the President to Kazakhstan this weekend. The Minister has stated that much bigger work is yet to come.
"Transit agreement is more important and complicated that requires to work on." Mr. Aliyev also talked about the inauguration of Baku-Tbilisi-Ceyhan oil pipeline to be held in Turkey on July 13. The ceremony is to start in Port Ceyhan and will go on in Istanbul.