Iran inaugurated its first car production line in Azerbaijan so to manufacture Samand.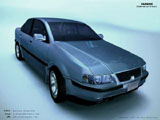 According to ISNA, in the ceremony which had been held through the presence of Iran's Industries and Mines Minister and Azerbaijan's Development and Economic Affairs Minister, Samand car factory was launched.
The production capacity of this factory is 10 thousand cars annually and will rise up to 15 thousand in the next phase.
This production line is Iran's first car factory in abroad which was constructed during five months and is to cover the CIS region through the cooperation of another car factory in Belarus.
This car factory is 16 thousand meter and has salons for SKD manufacture.
The whole project is worth $10 million which is invested by Azerbaijan and its whole production capacity is 30 thousand cars.
Azerbaijan singed two agreements with Iran for constructing this factory and also for buying SKD from Iran.