Work is complete on the Azeri section of Baku-Tblisi-Erzurum (BTE) natural gas pipeline, and the first test for transportation is now under way.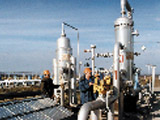 According to the Turkish Daily News, British Petroleum (BP), the operator of the pipeline, announced that gas pumped on May 21 had reached the 72nd field in Georgia's Gardabani region. There, the Anatolian news agency reported, tests to transport gas all the way to Turkey's borders will begin in August.
Like the Baku-Tblisi-Ceyhan (BTC) oil pipeline, the BTE is projected to transport 20 billion cubic meters of gas annually. The shareholders in the project include BP, 25.2 percent; Statoil from Russia, 25.5 percent; SOCAR, an Azerbaijan state company, 10 percent; Lukoil from Russia, 10 percent; NIKO, 10 percent; Total, 10 percent; and the Turkish Petroleum Corporation (TPAO), 9 percent. The partners' total financial input in the project amounts to $1.3 billion.
The Shahdeniz reserves in Azerbaijan will also be operated by the same partnership with the same proportion of shares.
/www.turkishdailynews.com.tr/