The 13th Azerbaijan International "Oil & Gas, Refining and Petrochemicals-2005" Exhibition and Conference will start in Baku on June 6.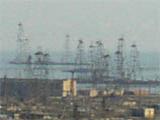 Some 350 companies from 30 countries will participate in the four-day show, according to the event organizer Iteca Caspian, the Baku office of the British ITE Group PLC.
The exposition area will be expanded by 20% compared to last year. Almost a third of the space will be occupied by companies that have recently entered Azerbaijan's market. Oil companies operating in the Caspian region, including BP, ConocoPhillips, Itochu, LUKoil, Statoil, Total and TPAO, have booked space at the exhibition. Also on display will be the pavilions of Italy, Germany, Russia, Britain, and Poland. The number of Russian companies taking part in the show has somewhat increased in connection with the Days of Russia in Azerbaijan.
On the second and third day of the event, a conference on energy security and exports of Caspian oil to world markets will be held at the Hyatt Regency Hotel and attended by some 300 representatives. The exhibition will be held with the support of the Azerbaijan Ministry of Industry and Energy and State Oil Company (SOCAR), and sponsorship from LUKoil. High-ranking officials from a number of countries will arrive in the Azerbaijani capital to attend the opening ceremony, including Turkish Minister for Energy and Natural Resources Mehmet Hilmi Guler, Georgian Energy Minister Nika Gelauri, Israeli National Infrastructure Minister Benjamin Ben-Eliezer, and Ukrainian Fuel and Energy Minister Ivan Plachkov. Officials from Iran, Kazakhstan and Russia will be in attendance as well.
/AzerNEWS/