Only a few days remain for the rich hydrocarbon reserves lying underneath the cold waters of the Caspian Sea to be transported to international energy markets through the Baku-Tblisi-Ceyhan oil pipeline project, branded as 'The Project of the 21st Century'.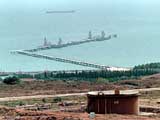 Although the historic grand opening of the Baku-Tblisi-Ceyhan (BTC) oil pipeline is officially scheduled for July 13, the oil in the pipeline will reach the terminus at the Turkish port of Ceyhan today, making it possible to disgorge the first shipment of oil to the global markets, according to the Anatolia news agency.
Preparation is well under way for the first shipment from Ceyhan as the British oil tanker Hawthorne is expected to dock at the port by tomorrow. Workers appear to be excited and intent on preventing any delays or technical malfunctions.
District Administrator Ayhan Boyaci said the Caspian oil reaching the terminus at Ceyhan was a historic day of great dimensions particularly for Turkey, Azerbaijan and Georgia, the three countries traversed by the BTC pipeline to reach its final destination of Ceyhan.
In addition to opening up an alternative supply to the West, it will provide Turkey with $300 million in revenue annually. The Turkish leg of the BTC cost $1.4 billion, while the total cost exceeded $3 billion.
BP is the lead shareholder in the 1,100-mile-long oil pipeline, which runs from Baku through Georgia to the Turkish seaport of Ceyhan. By 2010, the pipeline is scheduled to deliver an estimated 1 million barrels of oil a day.
Seventy percent of the $3 billion it cost to build the pipeline came via loans from banks. A large proportion of this debt came from public financial institutions led by the International Finance Corporation (IFC), the part of the World Bank, which lends to companies rather than governments, and the European Bank of Reconstruction and Development (EBRD). This allowed BP to secure further private investment funding from banks like Citigroup. The additional 30 percent came in the form of equity (capital provided by the oil companies that hold shares in the project).
Construction began in May 2003 and the pipeline was officially declared open two years later, some 16 months behind schedule due to unforeseen infrastructural problems.
The project is governed by an Inter-Governmental Agreement (IGA) between the governments of Turkey, Azerbaijan, and Georgia, which was drafted by individual Host Government Agreements (HGA) and BP between each of the three countries and the BP-led consortium.
What is already projected as a historic grand opening for the BTC will take place on July 13. The Prime Ministry, the Foreign Ministry and the Security General Directorate of Turkey are organizing joint meetings to coordinate their activities during the opening ceremonies. The presidents of Azerbaijan and Georgia will attend the grand opening. "This will be the greatest opening Turkey has ever presided over," Turkish officials indicate, followed by a dinner party for the guests at the Ciragan and Dolmabahce palaces in Istanbul.
/www.turkishdailynews.com.tr/