Avoidance of obligatory audit is concerned with existence of shortcomings in the activity and lack of financial transparency. It mostly relates NGOs operating in the country.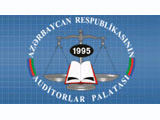 As APA informs according to the Chair of the Chamber of Auditors of Azerbaijan (CAA) Najaf Talibov, approximately half of NGOs currently operating in Azerbaijan were registered and included in the state register, and others are unregistered public unions to be funded from different sources and only few of them are audited.
"There are approximately over 1500 registered NGOs throughout the country. According to our calculations, it was revealed that only 64 of them had been audited. Although the law provides for approval of NGOs' financial statements by auditor's conclusion, they avoid audit inspections. It is connected with opacity in their activity. I should also note that the law does not provide for any punishment for such cases", - the CAA official said.
Talibov also noted that the price of audit service was not envisaged in the law. This amount is agreed between client and auditor.
The councilor of the Chamber's chair said that they had prepared proposals on making some changes to the law "On auditor service" for the purpose of eliminating the abovementioned shortcomings and used international practice in this work: "The law "On auditor service" approved in 1994 fully met requirements of that period.
Today there are some shortcomings concerning avoidance from audit inspections. I should note that last year as a result of our cooperation with the Ministry of Taxes, we learnt that very few of 16 thousand legal entities undergo audit.

Talibov also informed that currently there are auditor organizations in Azerbaijan which are capable to conduct audit inspections in foreign countries and our experienced local specialists work in such organizations: "If we consider Azerbaijani representations of foreign auditor companies, 1-2 foreign auditors work there and the rest of employees are Azerbaijanis. The number of domestic auditor companies increases in the country every year and I can say with confidence that our auditor companies will be able to establish their offices in foreign countries within the following years".