The Azerbaijan capital investments this year will make up about 611 million AZN (around 660 million USD).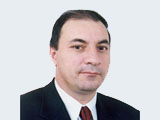 Half of this sum will be spent on construction of modular electrical power stations, the Azerbaijan Finance Minister Avez Alekperov told the news conference on Tuesday, Trend reports.
According to the Minister, from the total amount of funds (310 million euro) designed for financing of modular electrical power stations 62 million euro has been already repaid, 95 million euro more will be paid shortly.
The remaining means will be spent on gasification projects, the road building, water supply, educational and cultural projects. By availability of budget the volume of funds projected as capital investments will be increased, the Minister noted.
Apart from this, as Alekperov noted, there are resources for the state to enhance its involvement in the projects implemented on the account of foreign investments, particularly, the share of the state may be brought to 50%.