By the decision of the National Bank of Azerbaijan (NBA) the quotation rate of the Azerbaijan Mortgage Fund (AMF) on which it will allocate credit resources to authorized banks have been approved. It constitutes 6%.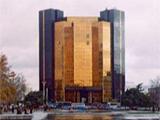 Under the presidential instructions on approval of the Regulations and Rules for the Mortgage Fund, the mortgage loans may not exceed 14% of annual, Trend reports, citing AMF.
NBA has also approved the patterns of contracts to be concluded with the agent banks and the needed standard requirements for the AMF activities commencement.