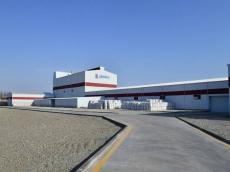 Azerbaijani company Glassica JSC exported over 250,000 glass bottles to Romania and Moldova for the first time, Azernews exports, referring to Emil Asgarov, the company director.
He noted that the annual production capacity of the enterprise is 60-90m of different colored glass bottles.
"Glassica JSC currently provides 30-40 percent of Azerbaijan's demand for glass bottles. We are planning to build another plant in Sumgait Chemical Industrial Park in March 2023. Its production capacity will be higher than the current plant, and the investment cost will be AZN60m ($35m). The plant will be built in approximately 14 months," Asgarov said.
He also added that with the establishment of the enterprise, agreements on the sale of products were signed with two foreign and five local companies.
Notably, currently, the enterprise provides 140 people with permanent jobs and has made over 3m glass containers so far.