"Azerbaijan's oil exports are predicted to jump 61 percent up compiling 22.3 million tons in 2006," informs Baku office of BP.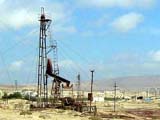 Mostly the rise will be caused by a huge export boost by the Azerbaijan International Oil Company (AIOC), a consortium of Azerbaijan's State Oil Company and 10 international oil companies, including BP.
AIOC is expected to export 19.8 million tons of oil next year, most of it through the new Baku-Tbilisi-Ceyhan oil pipeline, which spans the Caucasus region and Turkey, ending at the Turkish Mediterranean port of Ceyhan. This year, the AIOC is forecasting exports of 11.3 million tons.
It has to be mentioned that BP holds a leading 30 percent stake in the consortium being the pipeline's operator.
Azertac