The mission led by specialists of fund on operating monetary and financial systems of International Monetary Fund (IMF) Joddi Skarlaton is on a visit to Baku.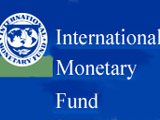 According to the information given to APA from IMF representation in Baku, the goal of the mission to last till 1 July is to assist the development of state securities market in Azerbaijan by holding three-sided round-up on the realization of project about operating foreign debts of Azerbaijan.
It was also informed that, the mission members will conduct meetings with representatives of Finance Ministry, National Bank, State Committee on Securities in the frame of the visit.
It must be noted that the sides of monitoring of foreign debt of Azerbaijan in the volume of1.5 billion dollars are IMF, government of Azerbaijan, and creditors.