As a result of monitoring the Ministry of ecology and natural resources of Azerbaijan, detected oil pollution in Northern Azerbaijan sector of Caspian Sea.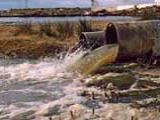 The agency Trend reports, the ministry informed the monitoring was conducted on cause of seepage oil polluted waters in Caspian as a result of flood of rivers
Particularly, during monitoring brown spots are detected with size of 2-3?200 meters at 100-150 meters from Yalama and Nabran. These facts were observed between shoreline from Mugtadyr to Garachay and in Divichi. Oil pollution is also observed between village of H. Zeynalabdin and Sumgait.
Monitoring in the sea was held from the ship "Alif Hajiyev". As a result it was defined, the level of hydrocarbon saturation exceeds the norm by 3,6 –158 times. The level of surface-active substances exceeds the norm by 2-3 times, this creates presumption of application of dispergents.