Ministers of Transport of Azerbaijan,Turkey and Georgia will meet in Istanbul late in June in the framework of the Kars-Akhalkalaki-Tbilisi-Baku railway construction project.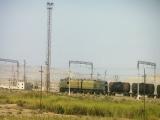 A working group is currently prepares the last version of the agreement documents, to be signed at the meeting of the three countries Transport Ministers, the Transport Ministry told Trend.
Earlier, the sides supposed to meet in April, but at the request of Georgia the meeting was delayed.
The meetings' agenda includes carrying out design and survey works, feasibility and marketing researches, the project funding and obtaining finances from other railways and investors concerned, setting up joint venture (joint-stock company or consortia for construction and subsequent joint operation of the new railway line, approval of the joint venture's organizational and legal shape and the initial size of the statute's fund, each party's size and form of contribution, coordination of the cost estimate and registration, defining of the joint venture's head-quarters and others.
The railway line's length is 98 km, out of which 68 km falls at the Turkish territory, 30 km – at Georgia. By the preliminary calculations, $400 million is required for the Kars-Akhalkalaki-Tbilisi-Baku railway.
The railway is envisioned to be constructed in line with European standards within the Turkish territory. For passing through the Georgian territory, where the railway had been constructed in line with the CIS standards, replacement of wheels and carriages will be required. The relevant terminal will be built for this purpose.
Coordination of the working group is carried out by deputies Transport Ministers of three countries. Azerbaijan is represented by the deputy Transport Minister, Musa Panakhov.
The project realization will allow Azerbaijan and Georgia to get a direct access to Turkish railways (currently, the freight traffic between Azerbaijan and Georgia is carried out on the large-size road transport only).