The decree of Azerbaijan president Ilham Aliyev about settlement of anti-inflation processes may be signed in the nearest two-three days.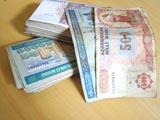 The agency Trend reports, the minister of finances Avaz Alekperov has informed participants of session Azerbaijan-American working group on cooperation and assistance in economic reforms and transition to market economy relations today, 5 May.  
He said, the draft of the decree is already practically prepared. It is proposed to establishment of independent state service on base of Department on anti monopoly politics of the Ministry of economic development, regulating inflation processes. The purpose of establishment of service is improvement of competitive environment and stimulation of the healthy business climate.
The agency Trend reports, the Cabinet of Ministers of Azerbaijan informs, for full activity  the service needs development of mechanisms of realization of its activity, which at the same  time would not violate rules of market economy.