Companies do not show active interest in exhibition "TRANSCASPIAN 2005".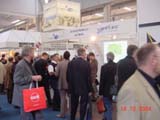 The agency Trend reports, the vice-president of Commerce-industrial chamber of Azerbaijan Mehman Akhmedov has informed journalists 19 April.
He said, participation at such type of exhibitions serves not only to the development of relationship between companies, but between different states just as well. "Absence of corresponding interest to exhibition, devoted to transport and logistic on behalf of local companies is definitely surprising"-Akhmedov indicated.
He especially underlined, it will be very important in future using the ways for attraction of more companies as from Azerbaijan, so from foreign states.
The fourth Azerbaijan international exhibition on transport and logistic "TRANSCASPIAN 2005" is to be held 20- 22 April at sport-complex center after Heydar Aliyev.