Two agreements on transit of Kazakhstan oil are to be signed between Baku and Astana by end of year, which is to pass via territory of Azerbaijan. The agency Trend reports, the president of State Oil Company of Azerbaijan Republic (SOCAR) Natik Aliyev informed.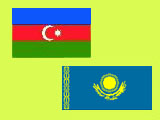 He said, this issue was the main subject of negotiations between Azerbaijan and Kazakhstan state structures for the last two days (17-18 April).
"Negotiations on transit of Kazakhstan oil via the territory of Azerbaijan, including joining of Kazakhstan to pipeline Baku-Tbilisi-Ceyhan  (BTC), has started even in 2002. Several fruitful meetings were held in this direction, where outlines of the project of inter-governmental agreement were specified", N.Aliyev indicated.
N.Aliyev also indicated that next agreement between Azerbaijan and Kazakhstan is to be devoted to tariffs on transportation of oil.   
"Kazakhstan party considers the territory of Azerbaijan as option of oil transit from field "Kashagan", its production is expected in the first half of 2008. By means of Azerbaijan means of transit, including oil pipeline Baku-Tbilisi-Ceyhan, it is possible to export 500 thousand barrels or 25 mln tons of oil per year. This is very important issue. Kazakhstan party strives solving this issue by the end of the year and to prepare corresponding agreement. Due to this reason, we started negotiations now, with aim to settle all issue before the start of production of "big oil", N.Aliyev underlined.