Yesterday President Ilham Aliyev received president of Azerbaijan International Operation Company (AIOC) David Woodward.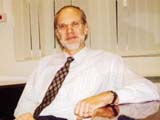 D.Woodward highly evaluated the production of the first oil from Central Azeri platform of "Azeri-Chirag-Guneshli" fields in Azerbaijan sector of Caspian Sea in February of this year and stated that works in that field continue successfully. He stressed his hope that Baku-Tbilisi-Ceyhan global project will be over in the nearest time and produced oil will be successfully transported through the main export pipeline.
In his turn, I.Aliyev stated that he evaluated the production of first oil from Central Azeri platform as the beginning of great oil era of Azerbaijan and noted that works in this field are realized successfully in our country. He stated his assurance that, works in this filed will be continued successfully: "As soon as Baku-Tbilisi-Ceyhan energy project is over the new stage of the cooperation of our country with AIOC will be established".
/APA/