President Ilham Aliyev signed an order today within the appointment of Elman Rustamov to the post of the chief of the Administrative Staff of National Bank.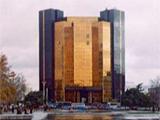 According to the information given to APA from the press service of presidential Office, with another order Aslan Aslanov was appointed to the duty of the vice- minister of agriculture.
It must be mentioned that, with another order of the president today Aslan Aslanov was discharged from the post of the head of the executive power of Shamkir region.