Today Ambassador of USA to Baku Reno Harnish will attend the opening of the first southern region Marketing Center of the Azerbaijan Business Assistance and Development (ABAD) project in Jalilabad.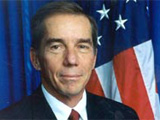 APA has been informed about it from press service of USA to our country.
The Jalilabad office serves as the hub of ABAD's activities in the southern region, with branches in Salyan and Imishli.
ABAD helps rural enterprises increase sales and create new employment opportunities. They work closely with enterprises and local communities to improve their technical and business skills and create market linkages. During 4 months ABAD plans to open 5 more marketing centers in other regions of Azerbaijan. Ambassador Rino Harnish will visit Jalilabad branch of "CredAgro".
CredAgro is a rural lending institution founded by ASDI/VOCA, with support from USA, which is busy with credit allocations and financing in rural areas. At present this organization has 9 offices and 6 branches on Azerbaijan.