In compliance with the payment balance of Azerbaijan for 2004, in 2004 Azerbaijan exported $3096.3m worth of oil and oil products, which 82.7% of all export ($3743m).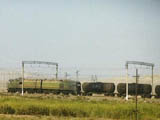 The National Bank of Azerbaijan, which makes statistics of the payment balance, told Trend in 2004 crude oil export from the country amounted to $2393.1m, including $1779.2m exported by AIOC and $1459.1m of profit oil of the foreign partners and $320.1m - by Azerbaijan. SOCAR and other producers exported $613.9m worth of oil.
The same time natural gas import from Russian deliverers made up $252.3 in 2004, or 7.04% of entire import ($3581.7m). In compliance with the payment balance, in 2004 the foreign goods turnover of Azerbaijan comprised $7324.7 or (+37% as of 2003) with surplus of $161.3m.