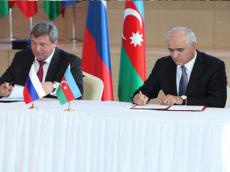 Azerbaijan and Russia signed 11 documents on cooperation on the results of the 5th Azerbaijani- Russian forum of interregional cooperation which was held in Gabala on June 23-24.
A memorandum of understanding was signed between the Azerbaijani Ministry of Economy and Industry and the Russian Ministry of Regional Development. The document was signed between the Azerbaijani Minister of Economy and Industry Shahin Mustafayev and the Russian Minister of Regional Development Igor Slyunyaev.
The cooperation agreements were signed among the Astrakhan Tourist Union and Azerbaijan Tourism Association, the Ural tourism association and Azerbaijan Tourism Association, between the "Astrakhan regional channel" LLC and the regional TV of Azerbaijan. Furthermore, a memorandum of understanding was signed between the Russian investment agency and the Azerbaijani Fund Export and Investment Promotion (AZPROMO).
The agreements on the cooperation have been signed with a number of Azerbaijani and Russian companies within the framework of the forum. In particular, the agreements on the cooperation were signed among the Russian Ministry on economic development of the Rostov region and the Azerbaijani "Matanat A" company, Russian Agroholding "Stariy Sad" OJSC and the Azerbaijani "STS Holding" company, "Trade House of Dagestan" JSC and Azexfruit company. The agreement on cooperation in the sphere of delivery of glass to Azerbaijan was signed between the Dagestan Glass containers LLC and Azersun Holding. Also an agreement was signed between the Dagestan`s " Yugagroholding" and "Investment Group" LLC.
At the end of the event the Azerbaijani Minister noted that the forum contributed to the development of bilateral relations and added that the signed documents will enhance cooperation between Azerbaijan and Russia.
Slyunyaev, in turn stressed that it is important to pay special attention to the development of cooperation between Russia and Azerbaijan in the tourism and agrarian spheres.
"The completion of this forum means the beginning of preparation for the next, which is traditionally held in Russia. And it is necessary to identify the main areas of cooperation between the two countries before the next forum. We also offer to hold several business missions in the regions of Russia for Azerbaijani enterprises during the year," the minister noted.
The forum adopted an appeal addressed to the Presidents of Azerbaijan and Russia.

/Trend/