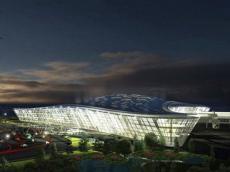 Russian web-site
Novate.Ru
published the most peculiar airports in the post-Soviet area. The new terminal of the Baku International airport after Heydar Aliyev constructed on the project by famous architectural company Arup has taken its place in the list.  
Day.Az
reports referring to
AzerTAc.
According to the web-site, the tremendous building with an area of 65 hectares resembles a bird spreading its wings to fly or a large plane blasting off the runway from above.  
Makers of the list note that the world trend which demands the airports and train stations to have not only comfort, but a masterpiece architecture of, as well as be the symbol of its host city has gradually entered the post-Soviet zone.  
Queen Tamara airport in Georgia, Astana airport (Kazakhstan), Khanty Mansiysk airport (Russia), airport in Tallin (Estonia), Belgorod and Pulkovo airports (Russia) are among the airports
Novate.Ru
shows among the most unusual.