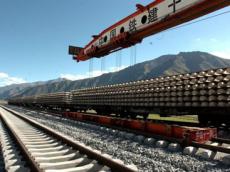 Source: AzerNews
Some $435 million was allocated for the project on the construction of the Baku-Tbilisi-Kars railway from the start of financing of the project by Azerbaijan's state oil fund SOFAZ until July 1, 2013, a statement posted on the Fund's website said.
In the first half of 2013, SOFAZ allocated $3.7 million for the project. Last year, the figure made up $151.5 million.
Funds were allocated to the Azerbaijani Ministry of Transport through the International Bank of Azerbaijan in accordance with the agreement signed by the governments of Azerbaijan and Georgia.
Also, Marabda-Kartsakhi LLC was established for design, construction, rehabilitation, reconstruction and operation of the Marabda railway section in Georgia bordering on Turkey and relevant infrastructure facilities.
The Baku-Tbilisi-Kars railway is being built in accordance with an inter-governmental agreement reached by Azerbaijan, Georgia and Turkey. The railway will increase the flow of containers and other types of cargo from Asia to Europe.
Azerbaijan has allocated a loan worth $775 million for the construction of the Georgian section of the railway. Funding for the project from the State Oil Fund is carried out in accord with the 2007 presidential decree on taking measures within the Baku-Tbilisi-Kars railway project.
It is planned to construct a new 105 kilometer branch railway as part of the Baku-Tbilisi-Kars project. In addition, reconstruction work will be carried out on the Akhalkalaki-Tbilisi-Marabda railway in Georgia, which will increase its capacity to 15 million tons of cargo per year. It is envisioned to build a center in Akhalkalaki for the transition of trains from the existing train tracks in Georgia to the European ones.
Around 30 million tons of cargo a year are to be transported via the Baku-Tbilisi-Kars railway line, which will become a direct route to the European rail network.