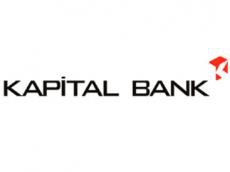 The Azerbaijani State Securities Committee of Azerbaijan registered the issue prospectus of ordinary registered documentary shares of Kapital Bank totaling 10 million manat, the Baku Stock Exchange (BSE) said on Friday.
One million shares, at 10 manat par value, were issued under the prospectus. Underwriter of the placement of shares of Kapital Bank will be Celsi Kapital.
Currently, the bank's authorised capital is 40 million manat.
Kapital Bank is the second largest bank in Azerbaijan by assets and retail deposits as of the end of 2011.
Kapital Bank has the widest network of branches and largest customer base. Today there are 89 bank branches and 11 divisions of the bank in the country.
Until the summer of 2008 Kapital Bank was fully state owned. Currently, the main shareholder of Kapital Bank is Pasha Holding, which owns 97.75 percent of shares.
/
Trend
/