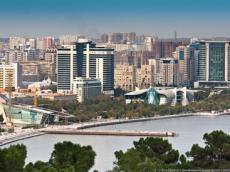 "The capacity of mutual investments between two brotherly countries, Azerbaijan and Turkey has been increasing year after year" said the trade advisor of the Turkish embassy to Azerbaijan Huseyn Yavuz Necip in the meeting that brought together the trade advisors of the neighboring countries' embassies.
"It is pleasant that the capacity of the imports from Turkey takes second place after Russia" added Turkish trade advisor. Huseyn Yavuz underlined currently 1266 Turkish companies have been operating in Azerbaijan.
These companies have invested $6.5 billion and employed over 25 thousand people. The volume of trade between the two countries has also reached $3, 5 billion. "The sympathy of the Azerbaijanis to Turkey, the geographical closeness and mutual profits in the international arena are the factors of affecting the growth of trade between the two brotherly countries" Huseyn Yavuz stressed.
/
AzerTAc
/