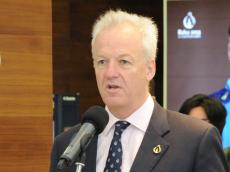 The success of Azerbaijan at the first European Games has inspired Baku 2015 Operation Committee, Chief Operating Officer of the first European Games Baku 2015 Simon Clegg said June 29 at the final press conference in Baku, dedicated to the European Games.
He said that a responsible attitude of Azerbaijan to holding the first European Games has determined their success.
"At the same time, there were more than 12,500 volunteers and flamekeepers here," said Clegg. "It would be impossible to hold these Games without their support. The opening ceremony of the Games was grandiose, and it has become possible thanks to the work done by Azerbaijan."
The European Games kicked off in Baku June 12 and wrapped up on June 28. Baku 2015 First European Games hosted 20 sports – 16 Olympic and four non-Olympic sports.
More than 6,000 athletes from across Europe came to Baku to represent their nations over 17 days of competition. Baku was awarded the games by the European Olympic Committees (EOC) in December 2012.