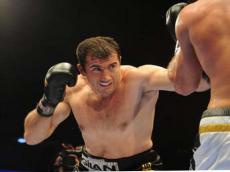 By Nigar Orujova
Azerbaijani super heavyweight (+91kg) Mahammadrasul Majidov had to pull out of the Baku 2015 boxing tournament because of an injury, the Baku 2015 European Games Operation Committee reported.
Majidov got injured while competing against Ali Demirezen (Turkey) in the quarterfinals and team doctors have ruled it would be unsafe for him to continue.
On June 25, the athlete was due to compete in the semifinals against Gasan Gimbatov (Russia) who will now advance straight to the finals.
Azerbaijani coach Nariman Abdullayev said that Majidov was injured very badly.
Four Azerbaijani boxers reached semifinals, which mean the country still may expect the medals.
Azerbaijani female boxer Anna Alimardanova advanced to the semifinals of the women's bantam 51-54 kg. Boxer Collazo Sotomayor, 64 kg, gained victory over Romanian boxer Daniel Niculescu and reached the semifinals in boxing.
"At the First European Games I have to win a gold medal," Sotomayor said commenting on his victory. "Azerbaijani fans, as always, helped to tune up to the fight. I have a purpose, motivation. I have to win a gold medal at this competition."
Azerbaijani boxers Parviz Bagirov, acting in the weight category of 69 kg, and Abdulkadir Abdullayev, acting in the weight category of 91 kg also reached the semifinals.
The Baku 2015 European Games is an innovative competition that has gathered over 6,000 athletes from 50 countries to compete in 20 sports on June 12-28.