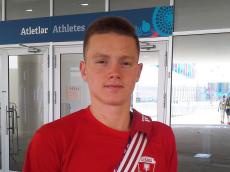 The First European Games in Baku are amazing, Franci Aleksi, Albanian swimmer, participating at Baku 2015 told Trend June 23.
He said that the European Games are better than the world championships.
Albanian swimmer added that the conditions in the Olympic Village are amazing.
Aleksi said he liked Baku and Azerbaijani cuisine.
Touching upon his performance in the Games, the swimmer said that his results are not very good. "Some other athletes were better than me."
The European Games that kicked off June 12, will last till June 28. There is a total of 20 sports at Baku 2015: 16 Olympic sports and four non-Olympic sports.
More than 6,000 athletes from across Europe came to Baku to represent their nations over 17 days of competition. Baku was awarded the games by the European Olympic Committees (EOC) in December 2012.
/By Trend/