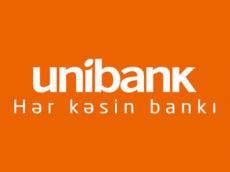 The assets of Unibank reached the record-breaking $1 billion on July 1.
Unibank, one of the leaders of the Azeri banking sector according to the financial statistics, has been giving the high evaluations from the international rating agencies.
For instance, the international rating agency Fitch raised the long-term rating of Unibank from B' 'stable' to B 'positive' in view of the stable credit performance of the bank. Apart from the opportunity of maintaining adequate capitalisation, the involvement of Unibank in lending activities has a broad economic coverage, in the opinion of the Fitch experts. They say that the long-term rating improvement has to do with the bank's serious role in the acceleration of the retail and micro lending.
The other international rating agency, Moody's Investor Services, has improved the outlook on the rating of Unibank to 'positive' and affirmed the rating proper at 'B2'. The financial stability rating awarded by Moody's is 'E+'. This agency improved the rating of Unibank in view of its adequate capitalisation and streamlined approach to operations. In the opinion of the Moody's specialists, Unibank has increased the number of quality assets and secured the stable revenues over the few years past.
For more details, please call (012) 117 or visit either the Bank's website (www.unibank.az) or its Facebook page (www.facebook.com/unibank.az).

/Trend/