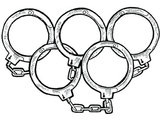 Majority of indigenous population in the U.S., Western Europe and even Russia are becoming more and more aware of the true face and mafia business of some of Armenian diaspora members in their countries. Once they treated their Armenian fellow citizens as victims of "genocide" in Turkey, and representatives of "proud" nation who fought for "their" "ancestral land" Karabakh.
Opinions about the essence of the Armenian-Azerbaijani Nagorno-Karabakh conflict in Russia and Western Europe have been rapidly changing over the past few years towards reality, and truth through efforts of Azerbaijani government and representatives of Azerbaijani diaspora while this process was somewhat slower in America. The reason behind this is preconceived opinions of Americans about Armenians, who allegedly have always been victims of their neighbors. But this has been true just until recently.   
It has already been reported that 70 members of a syndicate mainly composed of immigrants from Armenia or citizens of this country, were arrested in New York and Los Angeles at early morning on October 13. They were charged with theft of personal data of thousands of doctors and patients that the criminals used to extort millions of dollars out of Medicare, a program meant to provide medical care to the elderly, according to Federal Prosecutor Preet Bharara.
The charges were also brought up against suspects in Ohio, New Mexico and Georgia. According to investigators, the head of the Armenian mafia was a criminal boss named Armen Kazarian, nicknamed "Pzo". Later it became known that "Pzo" is a leader of an organized criminal group engaged in illicit trafficking of weapons, precious stones and rare metals, drug smuggling, kidnapping, and extortion. 
Bharara did not call the criminal group "international", stressing that its leaders had close ties with Armenia, regularly touring the country and acquiring real estate there with the help of funds earned through crime in the U.S. Bharara compared this group with a classic "Cosa Nostra", adding however that "in terms of illegal income, geographic scope and ambition, the classic mafia would envy the Armenian-American group." 
Opinions of Americans about the Armenian diaspora in the United States dramatically changed in wake of this development. First and foremost, it was revealed that senior representatives of the Armenian diaspora, in particular, the Armenian National Congress of America, are closely associated with criminals and secondly, their carry our their activities through illegal funds.  
The subsequent FBI investigation showed that "Pzo" is also closely connected with Armenian government's elite, in particular with former President Robert Kocharian and brother of current Armenian leader Sashik Sargsyan. It was learned that Armenian mafia transferred the money stolen from Medicare to Armenia. FBI even decided to send its officers to Yerevan, so that they would return stolen millions deposited in local banks.  
Doesnt end here, however. New details continue to surface. It was reported a couple of days ago that Thai authorities have extradited Russian businessman, arms dealer Victor Bout to the United States. He is charged with conspiracy to murder of U.S. nationals, conspiracy to murder of officers in government service, criminal conspiracy to purchase and sell missile defense and a conspiracy to supply weapons to terrorist groups along with many other charges. If the court proves the charges against Victor Bout, he will face 25 years in jail or life imprisonment. But Bout is considered innocent until the court issues its verdict.  
According to media reports, it appeared "Pzo" is Bout's right-hand and it was him who finally gave away his former boss to U.S. law enforcement agencies. According to FBI, he has audio recordings, proving that "Pzo" along with Bout concluded a deal on sale and purchase of weapons to kill American citizens. 
Despite Bout's guilt has yet to be proven, charges brought against him and Armen Kazarian's arrest over proven facts once again show that the Armenian diaspora in the United States does not only fail to work for the good of this country, but actually sponsors killing of Americans unwanted by them. Besides, the criminal gang had an extensive network in Europe, Middle East and Russia.
In meantime, "Pzo" was doing his business in Russia with the help of his friend Ara Abrahamian, who is also president of the all-Russian public organization "Union of Armenians of Russia." So, leader of local Armenians in Russia sometimes acts not in the interests of the state, which once gave them shelter. 
By the way, Maj. Gen. Hafiz Musayev at Azerbaijan's National Security Ministry wrote that Armen Kazarian and his associates have sponsored and sold weapons to criminals in Karabakh and mercenaries, as well as international terrorists, in his book titled "Features and Principles of Intelligence Services Fighting against International Terrorism" long before that.
The book also reports that the occupied lands of Azerbaijan are used by bandits and terrorists as a transit zone for transportation of weapons sold. The book, translated into foreign languages, has caused a great resonance in American society and establishment.
There is confidence, that U.S. law enforcement agencies have yet to find out everything and reveal even more horrific actions of the Armenian diaspora headed by notorious gangsters, swindlers and murderers. After that, attitude of American people towards the Armenian diaspora who for many years led whole world by the nose will be in line with its true intentions. This question is not worth doubts...
/Day.Az/