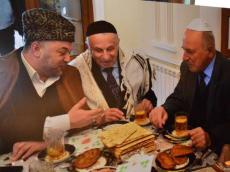 By Gulgiz Dadashova
Azerbaijan with a rich history is more than just a country in the South Caucasus. It is a living example for others who want to co-exist in a troubled region of the world.
Here in Baku, the capital of the intercultural and secular Azerbaijan, or in Khinalig, the most remote village of the Land of Fire, people don't care much about the meaning of the word 'tolerance', as they don't care about color, race or religion when making friends or sharing life.
Here people share their joys and sorrow. Christians, Jews, and Lezginz were fighting hand in hand for the freedom of Azerbaijan in the 1990s and they were crying together for the lives lost in terror attacks. They also marked together the national progress, as well as the bright victory at Eurovision 2012 and great victories of our sportsmen during Olympic Games.
With politicians, there is a lot to talk about "accepting" and "tolerating" when it comes to religion, origin or sex. No one and no nation can see the value of variety in culture and religion clearly enough as Azerbaijan…
As an example, an oak tree decorated with Christmas-tree decorations gives a fabulous look at the capital Baku and regions of Azerbaijan, which while it has a predominantly Muslim population, people can be seen wishing each other Merry Christmas on Christmas night.
The most-loved holiday of Azerbaijanis – Novruz- symbolizes the end of winter and beginning of spring and is often linked with the oldest monotheist religions, Zoroastrianism. It is largely celebrated in the country, involving all, irrespective of their religions and cultures.
This commonality in traditions, indeed, makes Azerbaijani society quite unique, sometimes leaving many questions for researchers when seeking to find the roots of this secular multicultural and tolerant society.
On this backdrop, it has become more topical in the globe amid rising intolerance, Islamphobia, Anti-Semitism and Racism, which over the course of history has often caused numerous deaths, genocides, violence, religious persecution as well as confrontations at different levels. Sometimes it is racial and ethnic, sometimes it is religious and ideological and sometimes it is a political and social issue. But in its every manifestation, it is evil and painful.
People are humiliated, bullied and attacked for no reason other than the fact that they have a different appearance, different views and different interests. Acts of violence sourcing from discrimination always produce justification, in the worst scenario done in the name of God. They are presented as a right vision and the protection of "ideals." However, wars, pogroms, inquisitions, and other terrible things which have been happening cannot be, and should not be justified. Otherwise, they will develop into an irreversible path, in fact inflicting damage on all of us.
Religious tolerance in Europe is one of the most discussed topics after centuries of wars between opposing denominations of Christianity, each claiming to be "the one true church". Today, the whole of Europe turns a blind eye to intolerance against Muslims, naming them terrorists and if not officially, but "under cover", forcing them to refrain from following their religion.
In the US, religion is not the question, but the color of the skin which is the main source of hate. Criminals of all skin colors and religions do exist, but the Americans, but for still some 'whites' see the real danger in the color. The Ferguson events began with the shooting of Michael Brown, an unarmed black teenager, by a white policeman. The shooting prompted protests that roiled the area for weeks.
The disputed circumstances of the shooting and the following protests and civil unrest received considerable attention in the US and abroad, and sparked a vigorous debate about law enforcement's relationship with African-Americans.
Closer to home, hate crimes targeting Turks and Muslims are common in the heart of Europe, i.e. Germany. German authorities announced in 2011 that a neo-Nazi gang was responsible for the murders of eight Turkish shopkeepers in the notorious NSU case. The killings were dubbed the "Doner killings" by German media outlets, named after the döner restaurants commonly run by Turks. And new attacks were reported in late 2014.
On this background, the situation is quite different in this small part of South Caucasus – Azerbaijan, where ordinary people don't understand when the world praises it for being tolerant, this predominantly-Muslim nation, for accepting Jews, Christians or atheists.
Azerbaijan shows the world somewhat anther picture on the back of rising number of hate crimes around the world. Azerbaijanis preserve their national identity associated with a unique heritage based on an improbable blend of Turkism, Zoroastrianism, moderate Islam, and its historical function as 'bridge' between Asia and Europe along the Silk Road.
Azerbaijan can be truly called a land representing a wide range of ethnicities.
According to the 2009 census, ethnic minorities in Azerbaijan represent 8.9 percent of the population, including Lezgins (the largest minority group, making up 2 percent of the population), Russians (1.3 percent) and others, such as Talysh, Tats (Muslims and Judeo-Tats), Avars, Georgians, and Ashkenazi Jews, which comprise the remaining 3.9 percent.
A settlement of a large number of Jewish citizens was organized without fear of discrimination, retribution, or clashes with neighboring towns and states.
Jews arrived in an area called Guba in 1735. They have been living in Azerbaijan for over a thousand years. It was in 1735 that Huseyn Ali Khan invited them to reside in the town of Guba. Huseyn Ali Khan's son, Fatali Khan became a protector of the Jewish community in a cantonment in Guba called Krasnaya Slobada and, interestingly, it has the highest density of the Jewish community in the world.
But Azerbaijan also holds Zoroastrian roots, Shia and Sunni Muslim communities and a Christian Orthodox tradition and a range of other religious traditions, all of which co-exist together feeling themselves part of the country.
Or take the fact that, Azerbaijan was the first country in the East to enfranchise women, making Azerbaijan the first Muslim nation to grant women equal political rights with men. Now, Azerbaijan has a society where women make up one-third of the workforce and stand with and play an integral role in the societal development. This allows Azerbaijan to take a leading role in the Caucasus, Middle East and North Africa region.
This is something that Azerbaijan and its people have nurtured over the past centuries, since they maintain that diversity and different faiths will contribute to the heritage and tradition of Azerbaijan. That is why the way to global tolerance passes through Azerbaijan..
--
The article was first published at Eurasiareview.com.
Follow Gulgiz Dadashova on Twitter: @GulgizD
Follow us on Twitter @AzerNewsAz