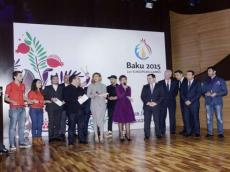 By Nigar Orujova
Baku 2015 European Games has announced that some of Azerbaijan's most popular entertainers will become Celebrity Ambassadors for this summer's inaugural event.
The biggest sporting event in Azerbaijan's history Baku 2015 European Games will attract more than 6,000 athletes to represent their nations during the 17 days of competition. There will be a total of 20 sports at Baku 2015: 16 Olympic sports and three non-Olympic sports.
The names of 13 stars from the world of music, television and entertainment were revealed at a launch event at the Mugham Center in Baku on January 13.
The list include singers Tunzala Aghayeva, Roya, Eurovision winners Eldar Gasimov and Nigar Jamal, comedians Bahram Baghirzade, Rafael and Joshqun, and Tahir and Jabir Imanov, musicians DJ Shock and Miri Yusif. Well-known presenters Murad Dadashov and Ilkin Hasani are also among the ambassadors.
Azad Rahimov, Azerbaijan's Youth and Sports Minister and Chief Executive Officer of Baku 2015, said: "I am delighted to celebrate 150 days to go until the Opening Ceremony of the first European Games with the support of these fantastic celebrities as official ambassadors of the Games.
"I am sure that our Celebrity Ambassadors will generate great excitement with the young people of Azerbaijan and encourage more people to get involved with the Games."
The programme will allow Baku 2015 to reach a range of audiences in Azerbaijan and Europe, using the Celebrity Ambassadors' star appeal and popularity to share messages about the event, which begins on June 12.
Participants will help to promote the Games by visiting venues, taking part in countdown events, supporting campaigns, and using their own social media channels to reach millions of followers.
Speaking at the launch event, singer Tunzala Aghayeva, said: "Whenever I am on stage I give everything to make it a great performance. In June, it will be Azerbaijan putting on an unforgettable show for the whole of Europe to enjoy.
"As a Baku 2015 Celebrity Ambassador I will be working to encourage people to get involved with Baku 2015 through initiatives such as the volunteer programme, and play a part in creating history for our country."
Simon Clegg, Chief Operating Officer of Baku 2015, added: "This announcement is the next step in expanding our ambassador programme and continues the great momentum we are generating as we continue our preparations to deliver a spectacular sporting event.
"I would like to thank all of our Celebrity Ambassadors for their support and we look forward to working with them to help promote Baku 2015 in the coming months."