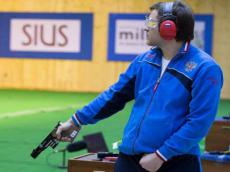 /AzerNews/
By Nigar Orujova
Athletes from Russia finished atop with five gold, one silver and one bronze medals at the ISSF World Cup Final in Rifle, Pistol and Shotgun event in Gabala, Azerbaijan.
Gabala hosted the 2014 International Shooting Sport Federation (ISSF) World Cup final on October 21-28. The ISSF World Cup Final Gabala concluded the 2014 international shooting sport season.
The final tournament was co-organized by Gabala Shooting Club, National Shooting Federation and supported by the National Olympic Committee, Youth and Sports Ministry and the International Shooting Sport Federation.
About 280 of best shooters of the world competed for the main title in the 15 Olympic shooting events.
The Chinese shooters took the second place collecting an impressive totals of 14 medals including three gold, three silver and eight bronze medals. Germans followed in third with two gold, one silver and one bronze medals.

Moreover, two records were equaled during the competition. Thus, USA's Haley Dunn equaled the current Skeet Women World Record of 74 hits out of 75 targets, while Russia's Leonid Ekimov equaled the 25m Rapid Fire Pistol Men Final World Record of 35 points.

Azerbaijani athlete, member of Gabala Shooting Club Emin Jafarof broke the new record of the country in skeet event (124/125) and took the fifth place.
"This year's ISSF World Cup Final has been a great success," the ISSF Secretary General Franz Schreiber said.
"The athletes showed their best performance at the end of an intense season, and we would like to thank the organizers of this event who set up an excellent shooting range. This new facility in Gabala shooting Club will host a combined ISSF World Cup Stage next year, and we are looking forward to come back here," Schreiber stressed.

Member ISSF Technical Committee Petros Kyritsis also praised the organization of event." I've monitored all the progresses made over the past year. I have to say that all the organization processes are fantastic, especially the club, and the range which is one of the most beautiful ranges in the world," he noted.
President of Gabala Sport Club Tale Heydarov has been awarded with the Honored Diploma and Gold medal of the ISSF for the successful organization of the 2014 World Cup Final in all events. This is the first award given to Azerbaijan on behalf of ISSF.
Earlier, Gabala Shooting Club hosted the International Grand Prix Shotgun. The club will also host World Cup in 2015, where the Olympic licenses will be issued.