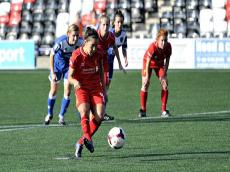 Final-day drama: mmm, isn't it? The finale of the FA Women's Super League was just about delirious enough to bring out the Ron Manager in all of us. Three teams began the last day of the season still in with a chance of winning the title, with Chelsea leading Birmingham City by two points and Liverpool a single point further back. When the whistles finally blew, it was on what had been thought the least likely outcome: the trophy being dressed in red in Widnes, where Liverpool had retained their title on goal difference with a 3-0 win over Bristol Academy.
The assumption was that Chelsea, who had looked rampant as they put five past Everton a week earlier, would do enough against a Manchester City side with their eyes on the final of the Continental Cup; the England international defender and club captain Steph Houghton, in danger of missing the match if she picked up a booking today, was among those rested. That feeling was strengthened when Birmingham City quickly went a goal down to Notts County, who have not given up goals easily this season.
By half-time it was precariously poised, with Chelsea still top of the table but two goals down to Manchester City, bringing their goal difference down to match Liverpool's. Now a single Liverpool goal would see them leapfrog the Londoners, but Lucy Bronze had just sent a header crashing against the crossbar. In Solihull, Birmingham City had fallen two behind but pulled one back and been denied an equaliser by an excellent save from Carly Telford, stopping Karen Carney's penalty. The table looked the same but everything felt very different.
Less than 10 minutes into the second half Natasha Dowie's neatly side-footed shot through a busy penalty area gave Liverpool the lead in the match and the title race. Hannah Keryakoplis pulled Birmingham City level to remind everyone that they, too, might go on and get three points. When news filtered through to Manchester that Bronze had quickly made it two for Liverpool, a buzz went around the stadium. "They knew when they needed to," said the Chelsea manager Emma Hayes, of her players. "When you go 2-0 down you need to know results elsewhere."
With 20 minutes remaining, Fara Williams's penalty gave Liverpool a three-goal lead but almost immediately Chelsea dented Manchester City's advantage when Gilly Flaherty headed in from close range. Even as the clock ticked down in these final minutes, a single goal could have diverted the motorbike carrying the trophy to Widnes back across the M62, and by golly Chelsea looked for it. When Manchester City went down to 10 players it seemed fated, but they defended as if it was they and not Liverpool who would be denied by a Chelsea equaliser.
The game in Manchester was the last to finish and when it did, the Chelsea players' distress was evident. Katie Chapman stood with her family, hand on hip, and looked grimly across the stadium. Flaherty came over to the stands and was embraced before her shoulders began to heave up and down.
It is a horrible way to finish second, but in time Chelsea will reflect on a season of significant improvement. Having finished second from bottom last time around, they can look forward to a place in next season's Champions League. "It's a monumental achievement for us," said Hayes. "The reality is that some players have never been in this position before, and the occasion, the moment, can get to you. This will help those players get stronger for next time. You can't console them in this moment, but I'm proud of them, they've brought a lot of optimism to the club this year and I look forward to building on it."
Just under 40 miles away, for the second season in a row, the Liverpool manager Matt Beard and his players were drenched in champagne and drunk on being made to sweat for the Women's Super League crown. "Honestly, I didn't think we would win it, I thought it was Chelsea's," said Beard. This was a sixth straight match without defeat for Liverpool, but they had needed some luck to mark up that run. Last week's draw with Arsenal came deep into stoppage time and Birmingham City were only beaten thanks to a goal allowed despite the fact that City had not realised that the referee had restarted play. "I didn't expect us to win it again," said Beard. "All we kept focusing on was making sure we got into the top two to qualify for the Champions League. So to win it is an unbelievable achievement."
/Theguardian.Com/