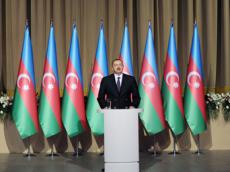 An official reception on the occasion of the national holiday of Azerbaijan – the Republic Day, has been held at the Buta Palace.
President of the Republic of Azerbaijan Ilham Aliyev and his wife Mehriban Aliyeva attended the reception.
Those gathered for the reception warmly welcomed the head of state.
The national anthem of Azerbaijan was played.
President Ilham Aliyev made a speech at the reception.
Then state awards were presented to the meeting participants.
According to a resolution of President of the Republic of Azerbaijan Ilham Aliyev, state awards of the Republic of Azerbaijan in the areas of science, culture and literature were presented to Ogtay Sadikhzadeh for his contribution to the development of national figurative arts, to Ramiz Guliyev for his concert and performance activities, to Tofig Nagiyev for his monograph "Coherent synchronized oxidization reactions of halogen with peroxide" and to Elmira Akhundova for her six-volume research novel "Heydar Aliyev. Personality and time".
The reception was concluded with an Azerbaijani concert.