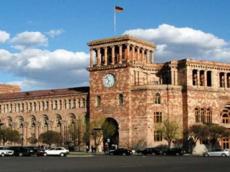 By AzerNews
The Armenian society believes that the new government's program for 2014-2017 is pointless.
The program has absolutely no meaning in Armenia's reality, local media reported.
"The program has been presented by people who violate the Constitution every day. They are also businessmen who assume the obligations of government members," the media reported.
MP Stepan Demirchyan also expressed doubt that the oligarchs' governmental program can lead to positive changes in the country.
"People steeped in corruption are appointed to senior positions and poverty reigns in the country," he said during discussion of the government program in the parliament on May 21.
"During former PM Tigran Sargsyan's tenure, 300,000 people left the country and the poverty rate increased sharply. Who is responsible for the bad mistakes of the former government?" he asked.
In response, Prime Minister Ovik Abramyan said he will not criticize his predecessor.
MP Nikol Pashinyan, in turn, wonders how the new PM was able to amass millions of dollars working in agriculture.
"Abramyan declared $5.5 million and Finance Minister $6.5 million. When did Abramyan or other members of government manage to amass millions of dollars?" he asked the head of government.
Pashinyan asked Abramyan to teach him how he'd managed to amass millions of dollars working in agriculture when the villagers who cultivate the land are burdened with bank loans.
Abramyan responded by saying amassed the money.
"Regarding my property, I never hid the fact that I have it. I declared it. I worked in agriculture when the law allowed doing business. No need to treat entrepreneurs negatively," he said.
Pashinyan recommended Abramyan to grow tomatoes, saying that he couldn't run the state.
Business has not been separated from politics in Armenia, where the poverty rate is 32.5 percent and the rate of unemployment is high (16.8 percent). The country's big businessmen mainly include government officials and MPs, and at least five members of the new government are among the richest people in Armenia.
The new government's plan for future will hardly promote socio-economic development in the country, which has a hard time surviving.