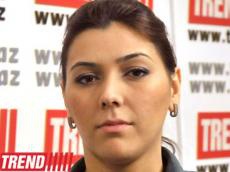 By Aygun Badalova -
Trend
:
Iraq with rich oil and gas resources has big plans to realize its export potential in the medium term. Europe is among the key desired directions for the country. At the same time Iraqi gas is considered as the future option for diversification aims of the EU, which can be reached through the implementation of the Southern Gas Corridor project.
In early 2013, the official representative in Trans Adriatic Pipeline, which was chosen as the route to deliver Azerbaijanis gas to Europe within the Southern Gas Corridor, said that the transportation of Iraqi gas is considered as plan B. TAP has potential to expand its capacity from 10 billion cubic meters to 20 cubic meters of gas per year, which will allow in the future to transport fuel from other sources, besides Azerbaijan.
This week Azerbaijan's foreign minister Elmar Mammadyarov at the joint press conference with his Iraqi counterpart Hoshyar Zebari in Baghdad said that the Southern Gas Corridor is open for Iraq to transport its gas to Europe. He also stressed that officials in Baghdad had already expressed interest in joining this massive project.
What is the potential of Iraq to get an access to the European gas markets? Iraq's proven gas resources amounts to 3.6 trillion cubic meters, according to BP. The country produced 0.8 billion cubic meters of gas in 2012 and that is 9.3 percent less than in 2011. U.S. Energy Information Administration said in its report on Iraq, that the majority of the country's gas production is flared. Flaring losses in some months have exceeded 60 percent of production, or more than 1 billion cubic feet per day, due to a lack of sufficient pipelines and other infrastructure to transport it for consumption and export, according to the EIA.
Three-fourths of Iraq's natural gas resources are associated with oil. The majority of non-associated reserves are concentrated in several fields in the North, including Ajil, Bai Hassan, Jambur, Chemchemal, Kor Mor, Khashem al-Ahmar, and al-Mansuriyah.
In late 2010 Iraq held third bidding round for Akkas, al-Mansuriyah, and Siba non-associated gas fields, with total reserves of up to 7.4 trillion cubic feet. A fourth bidding round was held in May 2012.
Last year Iraq announced about its intention to launch the fifth round of licensing of exploration of gas fields, within which 10 gas blocks will be put up for tender. The tender was expected to be announced in 2013, however there has been no news on that issue yet.
The source in the Iraqi government told Trend that this tender will be very important, as it will play a great role in increasing gas production in Iraq and bringing it to the level at which the country will be able to start exporting gas to the world market. Tender will cover the blocks in the western part of the country.
Iraq has plans to start producing the gas required for export by late 2017 and to begin exporting in 2018.
Iraq can be an important source for the world gas market. Its chances to become a gas exporter are quite realistic, however the country's great ambitions faces some obstacles, among which is the long-running dispute between the Iraqi central government and Kurdish autonomy. Some sources said that the Kurdish autonomy could eventually export at least 10 billion cubic meters of gas per year to Turkey, but wants to do it independently from Baghdad.
At the same time Iraqi Deputy Prime Minister for Energy Hussain al-Shahristani has recently welcomed the agreements on oil and gas export to Turkey, adding nevertheless that the quantities of Iraqi oil exported to Turkey must be known to the central government, oil must be sold at international market prices, and revenues from oil sales must be channeled to the account of the Iraq Development Fund in New York, in line with previous U.N. Security Council resolutions.
Iraqi gas is of a great interest to Turkey, and that has been recently confirmed by Turkish Minister of Energy and Natural Resources Taner Yildiz, who was quoted as saying that Ankara may prefer Iraqi gas rather than that imported from Iran, Russia and Azerbaijan. The reason is Turkey's bordering with Iraq, which means lower cost of imported gas.
Iraqi gas export to Turkey, which according to some expectations may start in 2016, could further provide an opportunity to transport it to the European markets. At this period of time Iraq seems to be the second potential source, which along with Azerbaijani gas may serve European diversification needs.