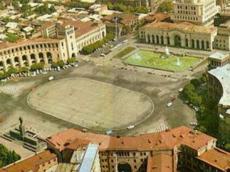 By AzerNews
Armenian President Serzh Sargsyan received a "warm welcome" from Armenians living in Czech Republic.
The crowd chanted slogans such as "We are against the Customs Union", "Stop the oligarchy", and "Serzhik, go!" outside the President's resident where Sargsyan met with his Czech colleague on January 30.
Sargsyan's official visit to Czech Republic encouraged Armenians living in Prague to voice their protest publicly. Protestors dissatisfied with the serious problems like emigration and unemployment in their homeland called for on his resignation.
Sargsyan in turn said at a press-conference in Prague that the decision on joining the CU was based on national interests.
"If our decision is based on our national interests, then it must be put into a practice as soon as possible," Sargsyan said.
Yerevan has decided to become a member of the CU, which came into existence on January 1, 2010, and signed a memorandum of cooperation with the Eurasian Economic Commission.
Armenia hopes that joining the CU will save its almost dead economy and intends to complete all procedures for joining the Customs Union in 2014.
Armenian diaspora continues to remain an economic and political power which supports Armenia. The Armenian expatriates recently accused their homeland's authorities of misusing the financial aid. The expatriates believe that the Armenian authorities do not spend public funds for the needs of the population.
"The representatives of the Armenian authorities and government without any need buy new expensive cars which are used just for the needs of their families," Diaspora said recently.
Armenian authorities seem to lose this power continuing to worsen the dead-end situation in the country. An unexpected "warm welcome" for Sargsyan in Prague allows predicting this.