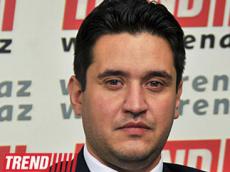 Trend news agency
expert Seymur Aliyev
Azerbaijan launched its biggest energy project, a project of supplying gas from Shah Deniz field to Europe in late 2013. Although the transportation volumes are only expected to hit about 10 billion cubic meters of gas at the first phase, the project is very important from the point of view of opening the Southern Gas Corridor, which may bring additional gas volumes from other producers in Azerbaijan and beyond it in the future.
At present, the implementation of vast energy projects is the main priority, Azerbaijani President Ilham Aliyev said at the World Economic Forum in Davos recently.
The president pointed out that the matter rests in the Shah Deniz-2 project, which envisages the extraction and transportation of Azerbaijani gas to Europe (TANAP and TAP gas pipelines construction) and will be the largest infrastructure project in Europe.
Today Azerbaijan is the initiator of the largest energy projects in the region. The Baku -Tbilisi- Ceyhan (BTC) and the Baku -Tbilisi-Erzurum (South Caucasus Pipeline) are followed by Shah Deniz -2 and the opening of the Baku- Tbilisi-Kars railway route.
Thus, several big infrastructure projects will connect three countries, namely, Azerbaijan, Georgia and Turkey for the next few years. They can be considered as a single cluster on the world economic map in the future. Moreover, this route through the three regional countries in the future could become a main one for transiting not only energy resources, but also other goods from Asia to Europe and back.
The transport routes through Azerbaijan can connect northern Europe with the countries of the Persian Gulf, the west and south of Europe with Central and Southeast Asia. In order to achieve these goals, Azerbaijan should primarily create a new infrastructure and reconstruct the existing infrastructure in the country. Today tens of kilometers of highways and local roads are under construction in the republic, the railway infrastructure is being reconstructed, a new international sea trade port is being built. All this will allow receiving and transporting large volumes of cargo. An additional branch of gas pipeline will be constructed in Azerbaijan for supply of gas from Shah Deniz-2.
Moreover, the infrastructure outside Azerbaijan is of great significance, especially for delivering gas to Europe. From this perspective, the Trans-Anatolian gas pipeline project (TANAP), which was also initiated by Azerbaijan is of great importance. This pipeline will allow delivery of energy resources from the eastern borders of Turkey to its borders with Europe. With the initial capacity of 16 billion cubic meters of gas per year, this gas pipeline has the potential to expand it to over 30 billion cubic meters of gas per year for hydrocarbons from other fields in Azerbaijan and manufacturers outside the country.
Being located on the crossroads of transport routes, Azerbaijan not only implements its own projects, but is also creating a transit infrastructure for the delivery of energy resources and cargoes from other manufacturers to different countries.